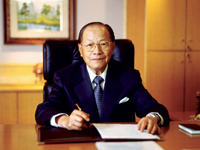 The global industrial market is more competitive than ever due to recent Information Science and Technology developments. The vision of the Foundation is based on the philosophy of drilling down in technical research areas with potential and innovative themes.

Based on the purpose of the foundation such as [Improving in the education level of science and engineering, leading knowledge economic value, fostering of talented human resources, focus on science and technology, improving the quality of life in society], we have a responsibility to pass down the innovative scientific technology to later generations and we aim to improve the competitiveness of the high-tech industry in order to compete globally by fusing human resources and science technologies.

The main activity of the Foundation is to provide scholarship to students pursuing chemical engineering, electronic engineering and information and communication in universities and graduate schools in Taiwan. Since its establishment in 2005, 54 stellar students have received the scholarship.

In addition, the Foundation also supports technical cooperation and several activities which accelerate technology transfer to contribute to the creation and development of various industries including electronic materials, PV and green energy.

Sponsored by the Foundation, a seminar which focuses on the latest technology for semiconductors and information and communication, is held every year.