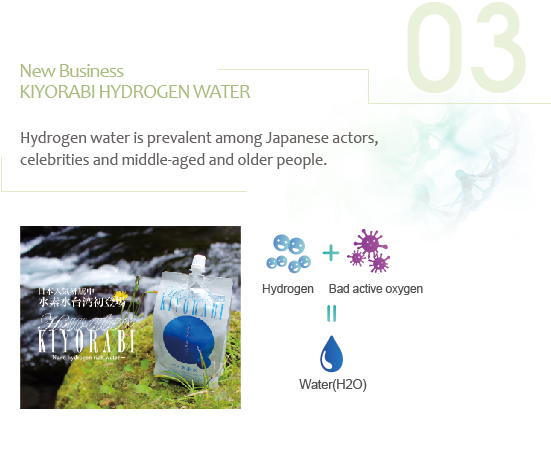 Hydrogen water is prevalent among Japanese actors, celebrities and middle-aged and older people.
KIYORABI hydrogen filled-water is made by natural water from Kikuchi City in Kumamoto which is one 100 best waters in Japan.
Average content of hydrogen is from 0.8 to 1.2 ppm which is best in Japan.
Hydrogen conjuncts selectively to only bad active oxygen and removes bad active oxygen from the body.
Hydrogen is the antioxidative substance and it makes bad active oxygen detoxicating.
---
Order and Inquiry (Open on weekdays from 9:00am to 5:00pm)
website : http://www.kiyorabi.com.tw (Open 24/7)

Email : customer@wittycorp.com.tw
TEL : +886-2-2700-8618
Fax : +(886-2-2705-7550